A Guide To Japanese Money
Here is some Japanese money. If you've never been to Japan before it may not seem like real money to you and you're more likely to let it pass through your hands more quickly--best to resist that temptation.
For the most current exchange rates, go to Oanda or to Xenon. Note that there are slight differences for the exchanges in New York, London, and Tokyo.
Japanese Coins

From the left, there is the aluminum one yen coin, which costs more to make than it's worth, then the 5, 10, 50, 100, and 500 yen coins. Vending machines accept all coins except the ones and fives, as well as 1000 yen bills. However, recently some machines may have disallowed use of the 500 yen coins due to some nefarious types using altered Korean coins to trick the machines. Pay phones take only 10 and 100 yen coins, or pre-paid phone cards.

And now here is something new. In 2000 for the Okinawa Summit this new 2000 yen note was introduced, along with a year 2000 special 500 yen coin.
But there isn't much acceptance yet for the new bill. Vending machines won't take it yet and the public doesn't feel any real need for it. This might be yet another boondoggle but only time will tell.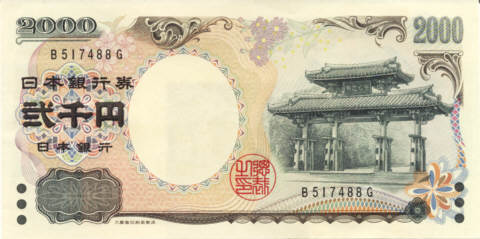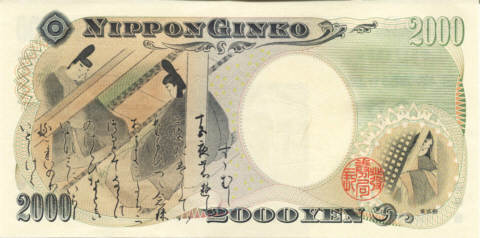 ---
Important Japanese Holidays
The following are some important national holidays when banks are closed in Japan. If you are coming to Japan from abroad during these times or on a weekend, it would be smart to make sure you have enough cash until you can go to a post office or bank.
January 1st - New Year's Day (Shogatsu or Ganjitsu)
January 2nd - 3rd - New Year's Holidays
2nd Monday in January - Coming of Age Day (Seijin no Hi)
February 11th - National Foundation Day (Kokuren Kinenbi)
April 29 - Greenery Day (Midori no Hi) (Formerly Hirohito's birthday)
May 3rd - 5th - Golden Week
July 20th - Marine Day (Umi no Hi)
September 15th - Respect for the Aged Day (Keirou no Hi)
2nd Monday in October - Health and Sports Day (Tai'iku no Hi)
November 3rd - National Culture Day (Bunka no Hi)
November 23rd - Labor Thanksgiving Day (Kinrou Kansha no Hi)
December 23rd - Emperor's Birthday (Tennou no Tanjoubi)
December 31st - Start of New Year's Holiday
---
Japan is still very much a cash based society. Credit cards are used but generally for medium sized to major hotels, department stores, large retail outlets, and stores that deal with lots of international tourists. However, You can now withdraw cash at machines in almost any post office in Japan using credit cards issued by Visa International, MasterCard International, American Express and Diners Club, debit cards issued by financial institutions participating in Visa Electron or Maestro Network, or ATM cards issued by financial insitutions participating in the Plus or Cirrus networks.
---
Here is a link to The Japan FAQ: Know Before You Go