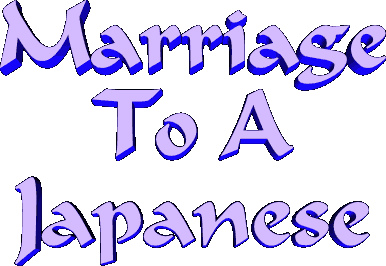 The first part of The Japan FAQ is HERE.
Procedures on Registration of Marriage to a Japanese National

Concerning marriage with a Japanese citizen outside Japan -- While both are residing outside Japan with the possibility of marriage before or after coming into Japan, it is advisable for the Japanese partner to inquire at the Japanese consulate nearest their home for the procedures to follow when registering their marriage according to the laws inside your country and then making that marriage legal in Japan for the Japanese partner.
Marriage inside Japan is a civil registration of marriage by the couple at a Japanese government office (city, ward, town or village). RELIGIOUS OR OTHER CEREMONIES DO NOT IN THEMSELVES MAKE A VALID MARRIAGE IN JAPAN, but may be conducted in addition to civil registration.
Here in Japan the following are advised:
1. Go to your consular office in Japan with your passport and sign the "Affidavit of Competency to Marry" (Konin Yoken Gubi Shomeisho). This is signed and sworn before your consular officer. Call ahead of time to find the small fee required by your consulate.
2. Have this Affidavit of Competency to Marry translated into Japanese with the translator's name and seal on the translation. Both the Affidavit and the translation will be required by the Japanese government office.
3. Obtain a copy of the Japanese form of registration of marriage (konin todoke) from her ward/city office and the Japanese national must complete it in Japanese and have two witnesses sign who are over 20 years of age. Ask the government office about how many copies are required.
4. If you are marrying at a government office different from the one where the Japanese family register (koseki) is kept, you will need to get a certified copy of the family register (koseki tohon) issued within one month of the marriage. Foreigners from Taiwan, China, or other nations which also have a koseki system will need a copy of their own as well.
5. Some nationalities (foreigners in Japan) are required to show a certificate of Alien Registration, (gaikokujin toroku zumi shomeisho) not the Alien Card. Be sure to consult with the government office where you plan to marry in Japan about this and/or *any other documents* which they may require.
6. Go to the government office to the Family Registration Section (koseki gakari). After accepting the necessary documents and forms, the office will issue a certificate of Acceptance of Notification of Marriage. (Konin Todoke Juri Shomeisho). Now the marriage is legal in Japan and the certificate is proof of valid marriage. There will be a small fee for this.
7. Some offices may require certified proof of the dissolution of all prior marriages. Please check your chosen government office here.
8. Now your spouse should ask for her new koseki and the names of the wife and husband are entered into this document. The foreign spouse's name, nationality, date and place of this marriage, etc. are recorded in the top section for remarks. Don't worry, this is a legal proof of marriage and this is the Japanese national's official family register.

In cases where a Japanese is married to a foreigner there is the question of what family name to choose. If a foreign spouse wants the Japanese spouse's surname to be officially recognized as his/her name, then he/she must submit a report of change of surname to the local Legal Affairs Bureau with documents certifying that it is possible to change surname according to the laws of the spouse's home country and evidence that the surname has been changed in such things as passport or insurance papers, etc. In your case, in that way, e.g. your Japanese wife can officially change her surname to your name or officially keep her Japanese surname. In that latter case the children will officially have her Japanese surname. It is important to remember that socially people are free to choose whatever name they like, written in whatever form they choose.
Now go to your consulate here in Japan and proceed to legalize your marriage in your country. Some consulates will notarize a translation of the Japanese marriage certificate to use in your home country as proof of legal marriage. Some countries required other procedures. Be sure to check your legal requirements at your consulate here in Japan.
If you marry a Japanese citizen outside Japan, for example in the UK, then the marriage must be registered in Japan through the Japanese embassy or consulate there, within 3 months of receipt of the certificate of marriage in that country. The following are usually required by the Japanese consulate, for example in the UK:
A. a marriage registration form (konin todoke) from the consulate.
B. marriage certificate from the country in which you married.
C. Japanese translation of this marriage certificate with the translator's name and seal or signature on the document.
D. copy of the Japanese spouse's family register (koseki tohon).
E. a valid passport

Actually, if you are considering an international marriage in Japan, you are hardly alone. In fact by the year 2002 according to government statistics, 4.7% of marriages in Japan are now international - up fourfold compared to 20 years ago. The majority of these are with Japanese men and other Asian-Pacific women, particularly Chinese, Korean, Pilipinas, and Thais. However for Japanese women the husband is overwhemingly American. The latest statistics can be viewed online through excel files here.
Go to the first page of THE JAPAN FAQ: Know Before You Go

Go to Quick Donations to donate free food and help to the needy.